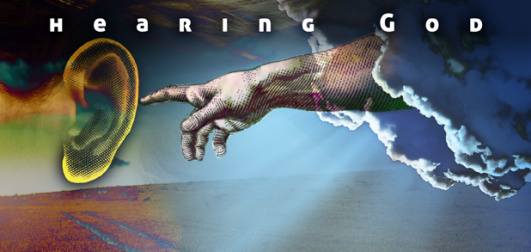 How God answers prayer or how he speaks to you is a part of his answer or instruction to you that prepares and equips you to respond. Transforming you to be better able to pray and to act and to get God's will done. So you can better do your part. And so you grow more and more into his likeness as you gaze upon him.
Some examples of the distinct ways God speaks to us, his "Voices":
Fear of God – holy awe establishes your relationship with God correctly. Enables you to hear more and to hear better. To pay deep attention. Aligns your values. Opens your ability to receive wisdom and all gifts from our Lord. Begin, always, with holy awe. (Here is an interesting and fascinating paradox. God is utterly transcendent & awesome. And yet Jesus is also our friend. He is awesome and he is personal and also trustworthy.)
Scriptures – Not only teaches us, but gives us the standards by which we can understand and recognize God and his messages. What we receive will not contradict scriptures.
Still Small Voice – God asks you to be to be attentive and responsive. You are extra clear who this is from – from I Am (The Lord) – directly to you. (I Am is Yahweh, a personal name for God. Relating directly to you.) God increases, automatically, your experience of your accountability. You are extra certain that the correct answer is, "Yes!"
Inner knowing – Knowing that you know that you know – providing you with deep inner certainty and even greater confidence. Increasing your ability to act and have great faith that empowers you to step out and risks.
Fruit of the Spirit – Especially love. God's love spills through you to others. For ministry, and to just love, love and love! Equips you to obey the Great Commandment, to love God with all your heart, mind and soul – which is a lot of love! To love others with the same love.
Dreams, visions, parables – God calls you to dig deeper, and to seek actively. Increases your motivation and ability to apply what he says (to the right person, situation or context).
Words of Knowledge – Insight into how someone or a situation is. Often analogue (mediated through the right brain), that calls for you to identify correctly a particular ministry target (person, place, etc.) Or pray for the person or situation to Holy Spirit helps you to identify. You get to experience aspects of God's chosen target. Giving you additional insight.
Gift of Wisdom – Enables you to know better how to act and apply with greater wisdom. Tells you what to do with what you know.
Trance – A trance focuses our attention completely onto what God is showing or telling us. Especially useful when an idea is hard to accept – you know you have received this message.
Angels – Angels are messengers. An angel is a messenger. And they can carry the atmosphere of the throne room of God. They are mighty, sometimes huge. Sometimes so much that people receiving a message from an angel will become so weak they cannot stand. Angels communicate great authority. All of this makes our standing on our own authority much less likely. Your attention has been strongly grabbed. So a message of great importance, that carries a lot of weight, that has huge consequences can be communicated without any doubt. We are sure of what we have received.
Thoughts in our own minds – Especially useful to help us identify with those thoughts and impressions as being owned by us. Especially useful when what is important is the message but not the Authority or Author of the message. Seems ordinary and we have little resistance to thoughts that seem to be ours and that indeed may be ours. But which could also be from God.
Nature – God's creation and beauty are for me a reliable context for me to hear God in. And for many other people. God speaks to us through his creation. I can go look at and be in the midst of God's creation, on purpose, and I will easily hear God and I know it. I am grateful for such grace when I sometimes have too much difficulty hearing God.
Beauty and art – When we are inspired by great music, beauty of any kind, great art – opens us to appreciate and receive inspiration.
Worship – Opens us to God and what God says much like beauty and art can. Only we are establishing our experience of relationship on purpose. Gratitude and praise make it easier to hear God. Being reminded of previous experiences with God makes it much easier for us to be ready to experience and hear again.
Unanswered Prayer – This is surprising, yet unanswered prayer can cause us to investigate our previous prayers and ourselves as we seek additional insight about why.
Answered Prayer – Causes us to give thanks, be grateful, rejoice. All of which helps us be more ready to hear what God has to say to us. We are prepared and ready to listen and to do as God says.
Conscience – Causes us to correct our ways.
Correction – When God corrects me, he has my attention and my immediately stronger than normal readiness for me to agree to whatever I am being told to correct. Other people have told me they experience much of the same.
Signs & Wonders – Literally point to messages from God, such as how much he loves us and wants to do for us. Help us to be exceedingly grateful! At which time a leap in our devotion and determination to relate and respond well to God is more likely to occur.
Animals – Animals talk to us, and sometimes we hear. Nearly always, we learn. Sometimes God speaks to us through animals – so pay attention and be ready!
Peace – Peace can be a clear signal of God's agreement with something, a message or a thought. (Lack of peace may show that there is no agreement from God.) I have a friend who found another place to live that looks wonderful – and who has no peace about it. Which he realized means that at least for now, God is not pointing him in that direction.
Coincidences – helps you learn to pay attention to, identify and respond with awe and great attention to Divine Appointments. Increasing your appreciation for and awe of God.
Other people – who affirm or inform can be comforting. Confidence building. And especially helps you experience community. Experiencing community with other members of the Body of Christ, especially as you are gathered in His name – gives you an experience of Jesus among you. And more! What few people notice consciously, but experience at least a taste of, is that you are having an experience of communing with and in Trinity. The community of God! You get to share in the communion of Father, Son, and Holy Spirit — the family that birthed you anew! Your most genuine family. And this is just a beginning of what will happen….
Silence – From: Oswald Chambers, "My Utmost for His Highest, Updated Edition", (p. 285). Discovery House. Kindle Edition:
October 11 GOD'S SILENCE—THEN WHAT? "When He heard that he was sick, He stayed two more days in the place where He was." John 11:6 Has God trusted you with His silence—a silence that has great meaning? God's silences are actually His answers. Just think of those days of absolute silence in the home at Bethany! Is there anything comparable to those days in your life? Can God trust you like that, or are you still asking Him for a visible answer? God will give you the very blessings you ask if you refuse to go any further without them, but His silence is the sign that He is bringing you into an even more wonderful understanding of Himself. Are you mourning before God because you have not had an audible response? When you cannot hear God, you will find that He has trusted you in the most intimate way possible—with absolute silence, not a silence of despair, but one of pleasure, because He saw that you could withstand an even bigger revelation. If God has given you a silence, then praise Him—He is bringing you into the mainstream of His purposes. The actual evidence of the answer in time is simply a matter of God's sovereignty. Time is nothing to God. For a while you may have said, "I asked God to give me bread, but He gave me a stone instead" (see Matthew 7:9). He did not give you a stone, and today you find that He gave you the "bread of life" (John 6:35). A wonderful thing about God's silence is that His stillness is contagious—it gets into you, causing you to become perfectly confident so that you can honestly say, "I know that God has heard me." His silence is the very proof that He has. As long as you have the idea that God will always bless you in answer to prayer, He will do it, but He will never give you the grace of His silence. If Jesus Christ is bringing you into the understanding that prayer is for the glorifying of His Father, then He will give you the first sign of His intimacy—silence.

Chambers, Oswald. My Utmost for His Highest, Updated Edition (p. 285). Discovery House. Kindle Edition.
P.S. I just found this. What a wonderful addition to this article, or even an improved substitute: Guest Post: Hearing God's Voice