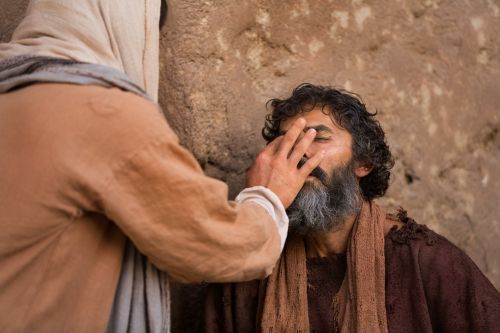 Discipling someone, or several people, can can succeed a lot faster than most of us are used to. I call this "Disciple-Making on Steroids" because this approach is so powerful and fast.
Here's an example to learn from, that, with variations – depending on your situation, can be done more easily and more quickly than perhaps we have ever seen.
On the street or in a supermarket or other store, or maybe a shopping mall, you see someone who obviously needs healing. Their injury or disability or pain is obvious to you.
So you walk up to them and say, "Hello. My name is ____; it looks to me like you have some" pain, difficulty, injury, disability – whatever it is. Make it easy for them to talk to you about it. Make sure you discover what it is that they cannot do or cannot easily do, because of that particular need of healing.
Ask them if it's okay for you to pray for them. Most people will be glad for such prayer, if by then you are in rapport. If they are not willing, thank them and let them be.
You can pray for them at a distance if you like.
Keep doing this until you discover someone who is willing to be prayed for.
Pray for them, praying to Jesus, maybe something like, "Dear Jesus, help this person with ____" whatever is needed. They expected you to pray for them, and it's easy for them to say yes to such a request. Then be sure to quietly but with authority – like when you are talking to a child or a pet and you really mean it – tell that need for healing to be healed. Be sensitive to Holy Spirit and do as seems best.
Ask them to test, to do what they could not easily do or could not do. When they succeed, give thanks to Jesus!
When that does not go well, you can be like Jesus healing the blind man who could see a bit more at first, but needed more healing and said something like, "I see men walking, but they are like trees walking". So, like Jesus, you pray (and command with authority), healing again.
If you want to do it like Jesus did, and was so successful at healing so often (always), you can do it like this:
Keep testing the healing until it is done. Persist.
Now comes the cool part, disciple making on steroids:
Now that they have been healed, ask them something like, "Would you like to give your life to Jesus and have him as your Lord?" When they say yes, lead them in such a prayer. When they say no, just continue as if they had. Because of what happens next, they probably will.
Take the person who has now been healed and who now has Jesus (or not) in them, and go with them. Find someone else who has an obvious need of healing. Instruct them to pray for and command healing, just as they experienced. Have them heal the person in need. Pray for them and their ministry, and their good success while that do that. Help them out loud as called for and needed.
Now you have someone with you who has been healed, who has come to Jesus (or not, yet). If not yet come to Jesus, ask them if they want to make it official now, and help them accept Jesus as Lord. If not, get their contact information, pray for them, and follow up and give them encouragement and help as you are led with Holy Spirit. Just do the best you can and ask for help through Holy Spirit.
I like to ask for more of Holy Spirit before I pray for someone or minister. My prayer and ministry is more effective when I do this, and I hear God better, too.
.
I believe that this is how Jesus wants us to minister in these times. In these days. The time is short: make disciples, with Holy Spirit, on steroids!